Kids love to draw numbers, letters, stick figures, and sometimes just doodle. As they get older, kids will either lose interest in art or get better at it and draw more complex things. Encouraging your child to unleash their imagination and creativity in the form of arts and crafts will stimulate their development in a variety of ways.
Gripping a paintbrush, pencil, or crayon will increase their fine-motor skills and bilateral coordination. As they experiment with different media, kids will increase their sensory skills as well as cognitive thinking. Besides boosting their self-confidence levels, kids can use as a way of expressing themselves and communicating their feelings. For this reason, we have compiled a list of the best art sets for kids.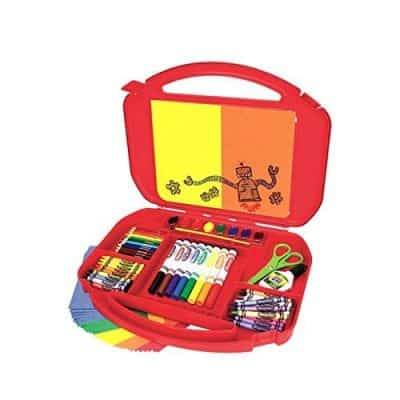 Why we like it:
The Crayola Art Case isn't overwhelming to your kid as they can easily carry it with them whenever they go.
Editor's Rating: ★★★★★
The Ultimate Art Case with Easel by Crayola will be a nice starter art set for younger children. The Ultimate Art Case with Easel comes with crayons, markers, colored pencils, some washable watercolors, a paint brush, 30 pieces, or colored paper, a pair of safety scissors, and some washable glue. All of these items are stored in a carrying case so that the child can take this to school, on a long drive, or even over to grandma's house for an overnight.
Pros
It comes with a carrying case that makes it portable.
This art set will help kids explore their creative and artistic side.
Kids will develop their fine motor skills when using this set.
Cons
The crayons and markers inside roll around since there aren't slots to keep them in place.
Why we like it:
The ArtBeek Wood Art Case is outstanding in ensuring kids draw to perfection. With a variety of colors and drawing tools, it lets everyone put down their ideas into graphics with perfection.
Editor's Rating: ★★★★★
This Wood Inspiration Art Case from ArtBeek brings great inspiration to everyone, whether kids or adults. The tools within give your work an excellent touch. The ability of your child to draw and color their pictures has been made simple with this art case. Each set boasts of 208 pieces dedicated to drawing. A combination of crayons, short colored pencils, washable markers, and others makes a perfect combination for drawing and sketching. Besides, the casing is durable to keep everything safe. With neat and organized drawing pieces, it makes it easy to retrieve when drawing.
Pros
It's suitable for both kids and adults.
It comes with a comfortable handle.
The set has a durable storage case.
It includes bright colors.
The box has decorative finish graphics to inspire your kid on first sight.
Cons
Reviewers have complained of receiving the wrong items.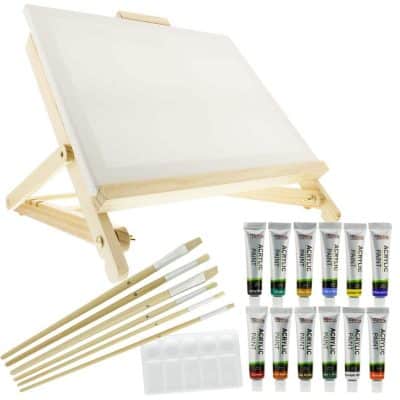 Why we like it:
Having the right drawing kit will help inspire your kids as it allows them to deliver their best. This 21-pieces acrylic set with easel brings convenience and fun wherever your kids are.
Editor's Rating: ★★★★★
The US Art Supply Acrylic Set gives you the best performance and experience while in the field. It's ideal for all level of artists and features a laptop easel for instant drawing. Therefore, whether outdoors relaxing or traveling, your kids can enjoy drawing. Unlike other sets, this comes with professional drawing brushes making it possible to enjoy your favorite type of brushes for excellent work. Each of the six brushes has a unique shape and structure giving your kids the perfect painting as well as drafting.
Pros
This is a premium acrylic paint.
It has a portable laptop easel.
This art set features a high-quality stretched canvas.
It's ideal for beginners and experts alike.
Cons
The brushes and paint are of poor quality.
Art Sets for Kids Buyer Guide: What To Consider When Buying?
Like buying anything else for kids, we also pay attention to some certain factors as below:
Safety: This should be a priority when buying anything, especially for kids. With the art set, parents can check some information like whether the materials, the size and shape of the art set's part such as crayons, brushes, palettes,… are safe for kids or not. Because sometimes the materials contain unsafe additives.
The level of art set tends to: Every kid starts the drawing with different experiences and knowledge so we could say that kids are not the same level. Therefore, choosing the right level of art set is very important to let kids' ability to draw better and better. If your kid has just begun drawing then you should buy them an art set for amatuer with limit quantity of components, weight as well as the quality.
Price: Is there anyone buy some stuff without a look at the price tag? Well, maybe that's not me. There are many art sets on the market with many price ranges as well. Usually, art sets for amateurs are quite cheap and of course kits for professional purposes are much more expensive. But you can get a good deal because there are also some art sets almost for high requirements but the cost is more reasonable.